Unley Concert Band is pleased to announce that Bryan Griffiths has been appointed as musical director for the band's Nationals campaign in 2018.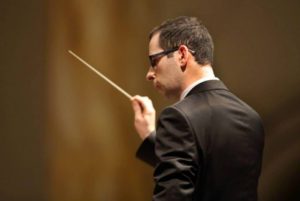 Bryan Griffiths regularly conducts both wind ensembles and orchestras at the professional, community and educational levels. Recent engagements have included the Adelaide Youth Orchestra, Adelaide Summer Orchestra, North Shore Wind Symphony and various ensembles at the Sydney Conservatorium of Music. In 2015 he was invited to conduct, teach and perform at the Federal University of Santa Maria's Festival Internacional de Inverno in Brazil and his interest in music education has seen him regularly engaged as a conductor with the South Australian Music Camp.
From 2010-2015 Bryan was a horn player with the ASO. Prior to this appointment he performed casually with the TSO, Sydney Sinfonia, Adelaide Art Orchestra and the Australian Youth Orchestra. He has also appeared as a soloist with the Adelaide Youth Orchestra, Elder Conservatorium Chamber Orchestra, Unley Symphony and Burnside Symphony orchestras.
Bryan is thrilled to join the Unley Concert Band for their 2018 season and is looking forward to working with them towards the National Band Championships in Melbourne.